What Is Land Rover InControl®?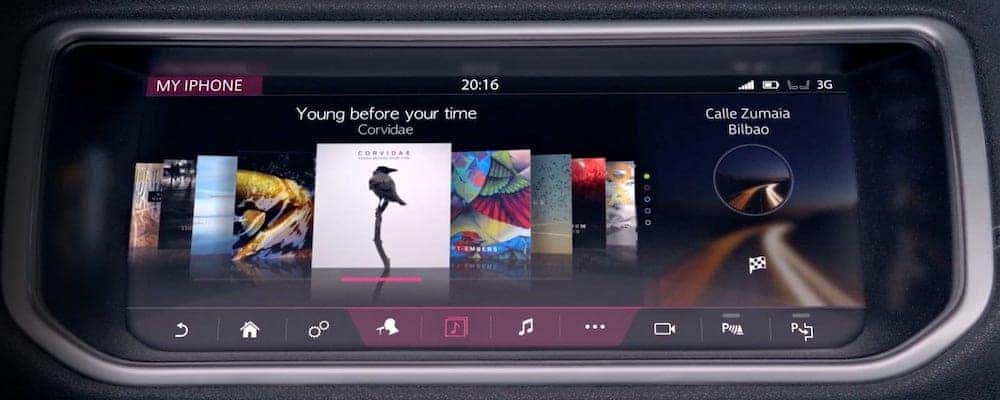 Land Rover InControl® is the infotainment system that you'll find in your Range Rover interior, Range Rover Velar interior, Land Rover Discovery, or any other new Land Rover for sale in Jersey City. Learn more about this Land Rover technology at Land Rover Englewood, and contact us for a test drive to experience it in action!
How Does Land Rover InControl® Work?
Explore some of the major InControl® features and abilities to find out how it all works in your new Land Rover.
InControl® Wi-Fi™: Access a Wi-Fi Hotspot via AT&T for in-vehicle internet access and general internet browsing on up to eight devices at once. Wi-Fi hardware is fitted to the vehicle with a mobile SIM card and 3 months or 3GB of data for the trial period.
Land Rover Connected Navigation: If you have the InControl® Touch Pro™ system you can access Land Rover Connected Navigation, which includes:
Real-Time Traffic Flow: Gathers millions of pieces of data to provide the most up-to-date traffic information, so you can anticipate issues and reroute if needed.
Route Planner App door-to-door routing: Allows you to remotely pick a destination on your smartphone. When you enter your vehicle the in-car navigation takes over. When you exit your car, it automatically passes the routing back to your smartphone for additional pedestrian navigation, so you can find a new restaurant or point of interest with ease.
Online Search: Using Connected Navigation, access sites like Trip Advisor, Lonely Planet, and more to learn more about your surroundings.
Satellite View and Street View: See unfamiliar surroundings from a different perspective so you can better understand them, with a bird's eye view or 360-degree panoramic street view.
Live Apps: Compatible systems can talk to each other–for example, your navigation system can pull flight information and alert you of any changes.
Land Rover InControl® Apps: This integrates vehicle-optimized smartphone apps like music streaming and calendars. When you connect your phone to the Land Rover media USB port in your vehicle, you access the apps on your Land Rover touchscreen. If you don't see the compatible app you want to use, open Land Rover InControl Apps on your smartphone and scroll through "Not installed apps" to find the app you want to use in your vehicle.
Which Models Offer Land Rover InControl®?
Every new Land Rover offers InControl®, just be sure during the buying process to request InControl® Apps capability, because this technology is factory-installed only.
What Devices Can Use the Land Rover InControl® Apps?
InControl® Apps are accessible with compatible smartphone devices. You must use the USB cables that come with the phone, brand-specific USB cables, and media USB cables as opposed to basic charging cables. Tablets are not supported for InControl Apps at this time.
Experience Land Rover Technology at Land Rover Englewood
Explore more Land Rover technology that awaits by checking out the latest Land Rover models at Land Rover Englewood. Want better peace of mind on New York City roads? Contact us to learn more about InControl® Remote & Protect™ or to compare models like the Range Rover vs. Range Rover Sport and the Land Rover Discovery Sport vs. BMW X5.
Learn More at Land Rover Englewood
The Range Rover is one of the most customizable large luxury SUVs on the market today! Choose from four Range Rover trim levels, two wheelbase options, and various seating options to custom-build an SUV that does everything you need it to do in Jersey City. If you're ready to take the next step and explore your…

For model-year 2023, Land Rover has introduced comprehensively redesigned versions of the Range Rover and the Range Rover Sport—and both models are now available with the all-new P440e Plug-In Hybrid powertrain. Land Rover PHEV TechnologyHow Does the Federal Tax Credit for EVs Work? Although we're still waiting on EPA estimates for the…

Selecting your favorite 2022 Range Rover Velar colors is one of the most exciting parts of choosing this new vehicle. After all, Land Rover provides buyers with more options than almost any other make! So, if you're ready to make a distinct and lasting impression on Jersey City and Fort Lee roads, you've come to the…