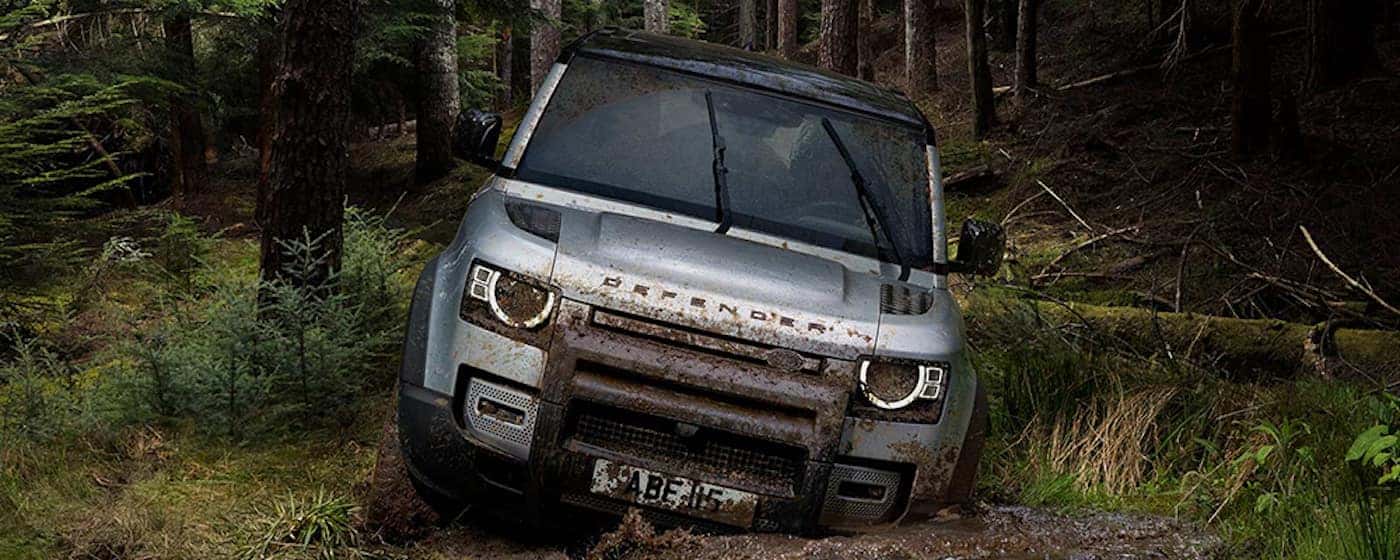 Land Rover SUVs are some of the best off-road vehicles that money can buy, but you shouldn't just take our word for it. The best off-road SUVs are those that come equipped with a wide range of impressive features and keep you moving forward over any conditions, and the models in our lineup certainly do not disappoint. Take a look at some of the best off-road SUVs with the Land Rover nameplate and prepare for an unforgettable adventure today!
What is the Best Off-Road SUV in Our Lineup?
Impressive Land Rover off-road features can be found in all of our new models, but some SUVs will feel somewhat better suited to the highway than the backroads. Although weekend warriors will appreciate the capabilities of the Evoque and the Velar, dedicated adventurers will lean toward the best off-road SUVs in our lineup: the Range Rover, the Range Rover Sport, and the Land Rover Defender. Here's what you should know about each of your most exciting options:
Land Rover Range Rover
Features a Two-Speed Transfer Case, Electronic Air Suspension, Low-Traction Launch, and Hill Descent Control
Achieves a maximum wading depth of 35.4 inches
Approach and Departure: Maximum angles of 34.7° / 29.0°
Land Rover Range Rover Sport
Features Terrain Response® and offers Terrain Response® 2 as an upgrade
Achieves a maximum wading depth of 33.5 inches
Approach and Departure: Maximum angles of 33.0° / 30.0°
Land Rover Defender
Features Wade Sensing, Two-Speed Transfer Case, and Terrain Response®
Offers up to 11.6 inches of ground clearance with optional air suspension
Achieves a wading depth of up to 35.4 inches
Approach and Departure: Maximum angles of 38.0° / 40.0°
When the new Defender was first released, we showed that it could easily outperform the Ford Bronco on the toughest trails near Jersey City and Fort Lee.
No matter which model you settle on, it's important to be sure that you've picked out the best off-road tires for your model.
What's It Like to Take a Range Rover Off-Road?
Although the new Range Rover is best known for providing peerless luxury and top-tier technology, it's more than capable of departing from the beaten path. In that way, it's paradigmatic for everything that the Land Rover brand is capable of. Here's a closer look at the Range Rover off-road experience:
RANGE ROVER OFF-ROAD DESIGN FEATURES
Ground Clearance – Air suspension allows the Range Rover to shift from a starting ground clearance of 8.6 inches to a maximum of 11.7 inches when properly equipped. In this configuration, it also offers up to 35.4 inches of wading depth.
Off-Road Angles – Without activating air suspension, the Range Rover has a maximum approach angle of 25.5 degrees, a maximum departure angle of 24.5 degrees, and a ramp angle of 21.5 degrees. Air suspension pushes these metrics to 34.7, 29.0, and 28.2 degrees, respectively.
Exterior Dimensions – Large and in charge, the Range Rover measures 196.9 inches from bumper-to-bumper with its standard wheelbase. With the exterior mirrors outstretched, it measures 87.4 inches from side to side. You can also fold the mirrors in to lose about six inches.
RANGE ROVER POWERTRAINS
Raw power is just one of the factors that makes a Range Rover a Range Rover, but it's something that this flagship SUV offers in very impressive quantities. Six different powertrains all give you the strength you'll need to experience unforgettable adventures:
3.0L TD6 Diesel – 255 hp and 443 lb-ft of torque.
3.0L P360 I6 MHEV – 355 hp and 365 lb-ft of torque
3.0L P400 I6 MHEV – 400 hp and 395 lb-ft of torque
2.0L P400e Plug-In Hybrid Electric Vehicle – 398 hp and 492 lb-ft of torque
5.0L P525 V8 Gas – 518 hp and 461 lb-ft of torque
5.0L P565 V8 Gas – 557 hp and 516 lb-ft of torque
Is the Range Rover reliable? The latest Range Rover received a J.D. Power reliability score of 74 out of 100, which is around average. Since drivers who own Land Rover vehicles tend to push them especially hard, an average score represents above-average performance.
Start Your Adventure at Land Rover Englewood
If you're ready to learn more about the best off-road vehicles on the road today, drive in from New York City or Jersey City to experience the Land Rover lineup at our dealership! Start browsing our new vehicle inventory online, and just contact us when you're ready to get behind the wheel.