How Much Can a Range Rover Evoque Tow?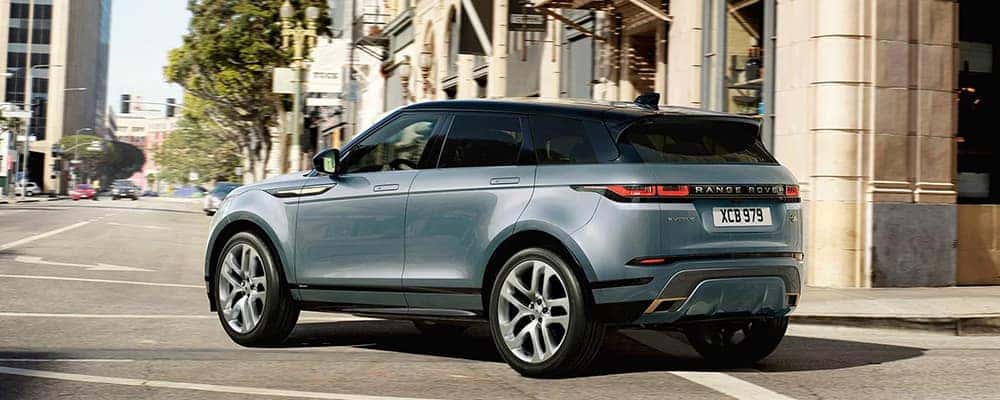 The 2020 Land Rover Range Rover boasts a maximum towing capacity of 3,306 pounds. Now that you've answered the question, "How much can a Range Rover Evoque tow?" we're sure that you'll be eager to take a closer look at its specs! Land Rover Englewood will take you through all of the relevant metrics and features, so you can tow with confidence.
2020 Land Rover Range Rover Evoque: Towing Capacity
When deciding which Evoque trim best fits your style, Fort Lee drivers will be pleased to know that the Range Rover Evoque towing capacity will not change. You can look forward to 3,306 pounds of towing capacity no matter which model you settle on.
Getting ready to tow? Take a look at a breakdown of some important Evoque specs:
Unbraked trailer weight: 1,653 pounds
Roof carrying capacity including roof rails: 165 pounds
Ground clearance: 8.35 inches
2020 Range Rover Evoque Engines
The Land Rover Range Rover Evoque also offers two different engine options. While both engines are 4-cylinder, they differ slightly and ultimately affect the vehicle's weight. Check out a breakdown of the engines' specs:
2.0L 4-cylinder 246 hp Ingenium Turbocharged i4 (269 lb-ft of torque)
Curb weight: 3,935 pounds
Gross Vehicle Weight: 5,355 pounds
Maximum vehicle and trail combination/gross train weight: 9,325 pounds
2.0L 4-cylinder 296 hp Turbocharged Gas MHEV (295 lb-ft of torque)
Curb Weight: 4,075 pounds
Gross Vehicle Weight: 5,400 pounds
Maximum Vehicle and Trail Combination/Gross Train Weight: 9,365 pounds
2020 Land Rover Range Rover Evoque: Performance Features
The 2020 Land Rover Range not only offers a large towing capacity, but this luxury SUV also has high performance features that New York City drivers will love. Some of these premium features include:
Torque Vectoring by Braking: This feature allows for more controlled braking, important for keeping attached trailers stable.
Active Driveline: Active Driveline provides additional grip and control when the vehicle is turning or riding over rough terrain.
Available Adaptive Dynamics: This addition monitors body movements and wheel position, and makes adjustments to provide better performance.
ClearSight Ground View: A feature allows you to see parts of the road that are usually obscured by your own vehicle.
Sports Command Driving Position: This model's elevated seating position allows the driver to enjoy superior visibility.
Visit Us Today to Test Drive the 2020 Range Rover Evoque!
Now that you know more about the 2020 Land Rover Range Rover Evoque, contact us to schedule a test drive and experience this upscale vehicle yourself. Or, browse our inventory and find your favorite 2020 Land Rover Range Rover Evoque for sale in Englewood!
More About Land Rover Model Features
There are twenty-five Range Rover paint colors and six Range Rover interior colors that you can select from when building your all-new 2022 model. That means it's easier than ever to stand out on Jersey City-area highways. If you're getting ready to configure and order a model that you've designed from start to finish, then…

 The 2022 Range Rover Velar mpg ratings top out at 21 mpg city, 27 mpg highway, and 23 mpg combined. That makes the Range Rover Velar fully equipped to conquer daily errands and longer drives inside and outside of Jersey City. Your search for an SUV is over, the Velar can power you through challenges…

With a starting price of $42,375 MSRP, the new 2022 Land Rover Discovery Sport remains one of the most accessible models in the Land Rover lineup—and one of the most luxurious entry-level off-road SUVs. If you're ready to learn more or find a new Discovery Sport with all the features on your checklist, then we…